After the awe-inspiring 90 minutes opening ceremony on September 30, the world's biggest show ever officially opens to the public today. Hosting the world for 182 days, Expo 2020 features 192 countries on the ground and showcases culture and innovation at its best.
The most-awaited event expects 25 million visitors to enter its door within the six-month run. Held on a site that is bigger than 600 football fields, Expo 2020 welcomes everyone for a mix of entertainment and business, physical and virtual realities, as well as glimpses of the present and future ways of life.
Expo 2020 in Dubai, UAE will have 10 themed weeks, with the first one tackling one of the most pressing issues at present — climate and biodiversity. Other themes include space; tolerance and inclusivity; travel and connectivity; health and wellness; and food, agriculture and livelihoods.
New chapter: Connecting minds, creating the future
Talking on the Expo 2020's grand opening, His Excellency Sheikh Nahayan Mabarak Al Nahayan shared the humble beginnings of UAE's formation and how it continues to progress until today. "We have always strived to create a better life, with our leaders' vision in mind. We have focused on investing in human development, expanding our infrastructure, diversifying our economy, and creating opportunities for everyone to prosper and grow."
A launchpad for innovation, collaboration, and inspiration, Expo 2020 is the first-ever World Expo to be held in the Middle East. What makes it a first in the 170-year history of World Expos is the coming together of 192 nations, each represented by its own pavilion. Al Nahayan further emphasized that by hosting Expo 2020 Dubai, "we aim to convey a message of tolerance and that we are willing to collaborate with all of the world."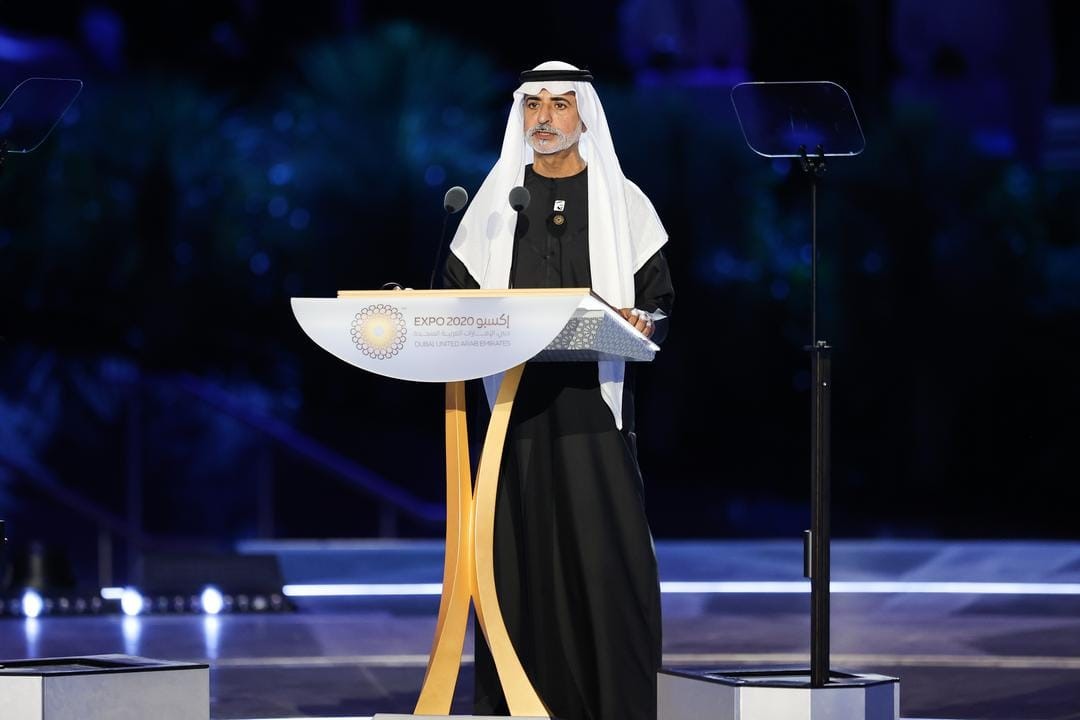 An affirmation that the UAE will always be a hub that gathers civilization and nurture innovation, the Expo 2020 logo is inspired by a golden ring that represents ancient civilizations connected to the UAE. In the largest cultural and business gathering until March 2022, each country will be able to celebrate their national day — or an honor day.
Business leaders worldwide are encouraged to connect and budding entrepreneurs will be nurtured under the Thrive Together program as well, designed to leverage the connecting power of the world. A lot is in store for visitors as they walk within the Expo 2020 site, with three main pavilions focused on opportunity, mobility, and sustainability.
Getting there
Expo 2020 is located in Dubai South, easily accessible from both Dubai and Abu Dhabi's international airports and cruise terminals. People can easily travel to Expo 2020 via metro or bus.
With an aircraft wing design, the Expo 2020 Metro Station was built to take passengers to the entrance of the World Fair. It is capable to hold 29,000 people per hour during peak hours.
Besides, free bus rides will be offered to visitors of Expo 2020 across the UAE. Dubai's Roads and Transport Authority (RTA) said that Expo Riders will be offered from three locations in Abu Dhabi and two in Sharjah. There will be other location as well in Ajman, Ras Al Khaimah, Fujairah, and Al Ain.
Entry to Expo 2020 Dubai is free for those under 18s, anyone aged 60 and over, students with valid identity cards, and people with disabilities.